This table helps employers understand which leave benefits (if any) apply to employees in various coronavirus-related situations.
The information in this table is for informational purposes only and should not be construed as legal advice. It is meant to give a general picture of benefits available in certain COVID-19 work-related situations. Please note that this is not an exhaustive list of benefits. Rather, depending on state and local laws, employees may be entitled in certain circumstances to employer-provided benefits for paid
sick leave, temporary disability, workers' compensation and more. Employers should consult with legal counsel for legal advice.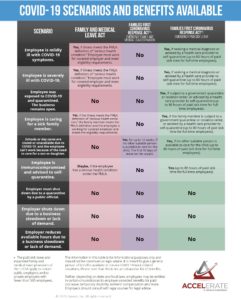 Download the "COVID-19 Scenarios and Benefits Available Table" – pdf