27 Mar

DOL Issues Temporary Nonenforcement Policy for Coronavirus Paid Leave Rules

The U.S. Department of Labor (DOL) has directed its field staff to observe a temporary nonenforcement period for the paid leave provisions of the Families First Coronavirus Response Act (FFCRA).

Issued on March 24, 2020, the DOL's Field Assistance Bulletin No. 2020-1 (FAB) indicates that the agency will not take any enforcement actions against FFCRA-covered employers between March 18 and April 17, 2020, as long as these employers make reasonable, good faith efforts to comply with the law.

The FFCRA, enacted on March 18, 2020, requires employers with fewer than 500 employees to provide paid leave for their employees, either for the employees' own health needs or to care for their family members, for reasons related to the coronavirus (COVID-19) pandemic. According to the DOL, the agency will focus on helping employers come into compliance with the FFCRA during the temporary nonenforcement period. This Compliance Bulletin provides the DOL's guidance.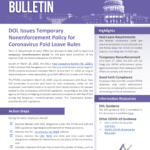 Download the complete "DOL Issues Temporary Nonenforcement Policy for Coronavirus Paid Leave Rules"