08 Apr

DOL Regulations for Families First Coronavirus Response Act – updated 04.07.20

The U.S. Department of Labor (DOL) has issued temporary regulations under the Families First Coronavirus Response Act (FFCRA). The FFCRA created new employer requirements to provide paid sick leave and partially compensated, expanded FMLA leave for reasons related to the COVID-19 pandemic. The regulations include important clarifications to the law and earlier DOL guidance on the FFCRA that will help employers understand their obligations under these new paid leave mandates.

The regulations expand on features of the law such as:
 The small business exemption;
 The implications of teleworking;
 Employee leave rights when caring for someone else; and
 The effect of existing paid leave policies and Family and Medical Leave Act (FMLA) leave on the new leave mandates.

The regulations also include definitions that were not in the FFCRA statute itself, such as the definition of "subject to a quarantine or isolation order," "telework" and an "individual" who needs care. The regulations also provide detail on when an employee may take intermittent leave and documentation required of employees and employers under the FFCRA.

This Compliance Bulletin highlights key elements of the FFCRA temporary regulations.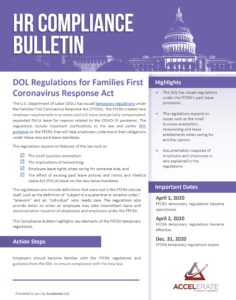 Download the "(NEW) DOL FFCRA Regulations" – pdf