10 Apr

FMCSA Extends Waiver of HOS Requirements Until May 15
On Apr. 9, 2020, the Federal Motor Carrier Safety Administration (FMCSA) extended its emergency declaration to provide some commercial motor vehicle (CMV) drivers an immediate waiver from the agency's hours-of-service (HOS) regulations.
The waiver will now apply through May 15, 2020.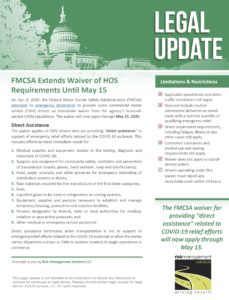 Download the complete "FMCSA Extends Waiver of HOS Requirements Until May 15" – pdf