The Coronavirus Aid, Relief, and Economic Security (CARES) Act, enacted on March 27, 2020, provides federal funding to expand the availability of unemployment insurance (UI) benefits during the coronavirus (COVID-19) public health emergency. Under this law, virtually all types of workers, even those who otherwise would not qualify for UI benefits, may receive payments for up to 39 weeks of unemployment under certain circumstances.
The CARES Act also provides funding for states to waive any waiting week requirements for UI benefits during the COVID-19 pandemic and to provide an additional $600 per week to all individuals receiving UI benefits for weeks of unemployment ending before July 31, 2020. The first week for which these benefits are available generally depends on when a particular state enters an agreement with the U.S. Department of Labor (DOL) to administer them. According to the DOL, all states have executed agreements as of March 29, 2020.
This Compliance Bulletin provides a summary of the CARES Act's expanded UI benefit provisions and includes information from related guidance issued by the DOL on April 2, 2020, and on April 4, 2020.
Additional guidance is expected in the near future.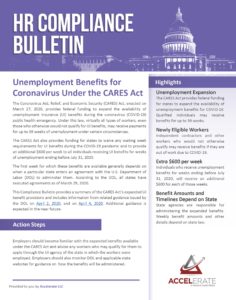 Download the complete "NEW – Unemployment Benefits for Coronavirus under the CARES Act" – pdf