29 Jul

COVID-19 Cleaning Log Homepage » Resecō Inform Posts » COVID-19 »
As a result of the unprecedented challenges the COVID-19 pandemic brings, businesses must review their internal protocols to ensure they are doing all they can to protect their workforce and manage their operations.
This is particularly true as it relates to housekeeping and sanitation best practices, especially given how precise these procedures need to be, based on guidelines from the Centers for Disease Control and Prevention (CDC) and other health officials.
This document provides an overview of cleaning recommendations from the CDC and includes a sample log that businesses can use during their cleaning and sanitization procedures.
Our CLEANING AND DISINFECTING BEST PRACTICES log covers the following areas:
Cleaning
Disinfecting
Soft Surfaces
Electronics
Laundry
To receive a free copy of our cleaning log, fill out this form and a PDF version will be emailed to the address provided.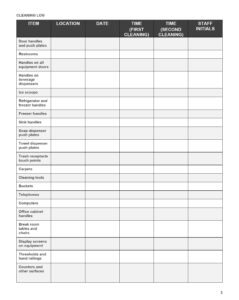 ---
It is important to remember that safety is a group initiative and that everyone needs to follow safety precautions and avoid taking risks to maintain a safe workplace.
To better understand the level of risk your business faces on a daily basis, take our free self-assessment.