28 Apr

Employer Return to Work Guides – COVID-19
While work restrictions may be lifting, the hazards related to the COVID-19 virus remain a significant health risk.
As businesses start to resume operations, we encourage you to consider these best practices to protect employees and visitors to your workplace.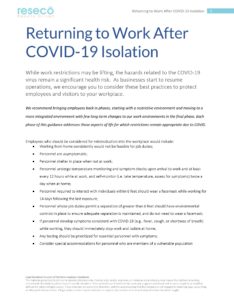 Download the "Employer Return to Work Guide – COVID-19" – doc
These HR Insights articles discuss post-coronavirus pandemic return to work plans.
Please note that these articles should be used for informational purposes only and should not supersede applicable state or local guidance. Additionally, please review any workplace-specific considerations, which could be more involved depending on the industry you operate in, when drafting your return to work plan.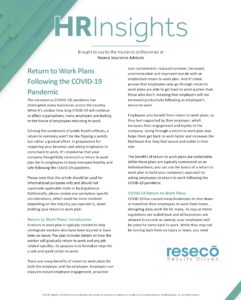 Download the "Return to Work Plans Following the COVID-19 Pandemic" – pdf
Post-coronavirus, employers may want to consider how updates to an office can help protect the health and safety of employees. This article addresses updates to an office layout, behavioral changes and expansion of remote work.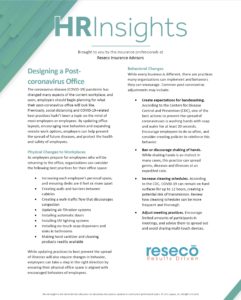 Download the "Designing a Post-coronavirus Office" – pdf
For more Human Resource guidance visit Accelerate LLC a Reseco Group subsidiary.