18 Dec

Overview of Cal/OSHA's Temporary COVID-19 Emergency Standard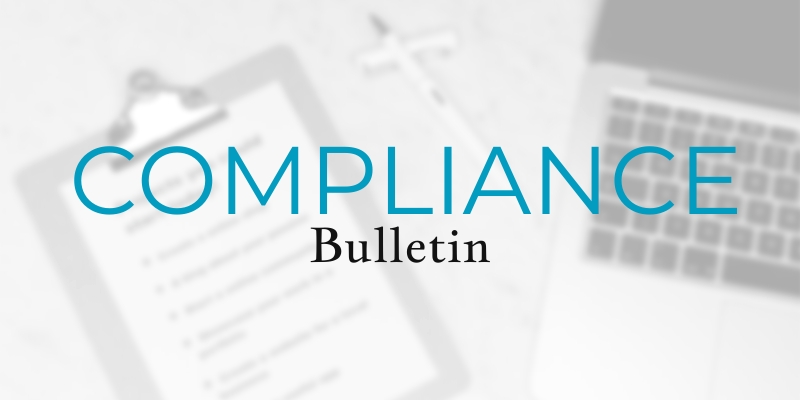 The standard went into effect Nov. 30, 2020, and is set to expire on Oct. 2, 2021.
The standard applies to most employers and employees, except for:
Written COVID-19 Prevention Program
Under the standard, employers must establish, implement and maintain a written COVID-19 prevention program. The program can be part of the employer's injury and illness prevention program (IIPP) or maintained separately. The written program must include plans, policies, systems or procedures for:
All workplaces, which includes sections on hazard identification and response, reporting, recordkeeping and limiting the transmission of COVID-19;
Employer-provided housing COVID-19; and
Employer-provided transportation COVID-19.
This Compliance Bulletin presents a high-level overview of the standard. Please refer to the full text of the standard or to Cal/OSHA's resource page for more detailed information.
Impact on Employers
Employers should review the new standard and become familiar with their new obligations under the law.
Cal/OSHA has published the following resources to help employers understand the new standard and their obligations under the law:
Answers to frequently asked questions
Model prevention program
COVID-19 temporary emergency standard fact sheet
Important Dates
Nov. 30, 2020
Effective date for Cal/OSHA's temporary COVID-19 emergency standard
Oct. 2, 2021
The expected expiration date for Cal/OSHA's temporary COVID-19 emergency standard
Communication Systems
Employers must ask employees to report COVID-19 symptoms, possible exposures and hazards in the workplace without fear of retaliation. In addition, employers must explain how to accommodate employees who have an increased risk of severe COVID-19 illness due to medical or other conditions.
In addition, employers must inform employees about access to COVID-19 testing. If testing is required under the standard, employers must inform affected employees of the reason for testing and any possible consequences for a positive test result.
The standard cautions employers that their system must account for communicating hazards, policies and procedures not only to employees, but also to vendors, contractors, subcontractors and other persons or entities that are or have been in their worksite in a confidential manner.
Hazard Identification and Evaluation
Under the standard, employers must identify, evaluate and correct COVID 19 hazards. To comply with this requirement, employers will need to conduct employee screenings and hazard assessments.
Employee screenings: Employers must allow employees and authorized employee representatives to participate in the identification and evaluation of COVID-19 hazards. The standard requires employers to develop a screening process to identify and respond to employees with COVID-19 symptoms. This screening process may include asking employees to monitor their own symptoms prior to presenting to work. When screening employees, employers must require screeners and employees to wear face coverings. The standard allows the use of non contact thermometers for employee screenings.
Hazard assessments: Hazard assessments should be conducted for potential exposure to COVID-19. Assessments should be completed for all areas, activities, processes, equipment and materials that could expose employees. This includes all persons who are at or may enter the workplace. To comply with this requirement, employers should evaluate fixed work locations and the flow of traffic for entering, exiting and traveling through the workplace. As a precaution, employers should assume that all individuals in the workplace are potentially infectious, regardless of symptoms or negative COVID-19 test results. Hazard assessments must identify the places and times when people may have come into contact with one another, including during work time, rest breaks and other possible interactions.
Employers in indoor locations must maximize the quantity of outdoor air and determine whether it is possible to increase filtration efficiency to the highest level compatible with the existing ventilation system.
Inspections: Employers must conduct periodic workplace inspections to ensure compliance with the COVID-19 policies and procedures and to identify unhealthy conditions, work practices and work procedures.
Hazard Correction and Prevention
When hazards are identified, employers must implement hazard corrective and/or prevention measures.
Hazard correction: Employers must implement effective policies or procedures for correcting unsafe or unhealthy conditions, work practices, policies and procedures in a timely manner. Corrective measures must be based on the severity of the hazard and must consider all applicable California orders and guidance related to COVID-19, including guidance issued by the California Health Department and any industry-, location- or operation-specific guidelines issued by the state.
Prevention controls: Employers must evaluate their COVID-19 prevention controls to determine whether different or additional controls are required.
A complete evaluation will review:
Administrative, engineering and personal protective equipment (PPE) controls;
Face-covering controls;
Physical distancing controls; and
Protocols for correcting COVID-19 hazards.
Employers with indoor locations must increase the supply of outdoor air and maximize the filtration efficiency of the existing ventilation system to provide better air circulation in the building.
Responding to COVID-19 Cases—Preventing Workplace Transmission
If there has been a COVID-19 case in the workplace, the standard requires employers to respond with procedures aimed toward preventing and reducing workplace transmission. Response procedures may include verifying case status, receiving information regarding test results, identifying the onset of symptoms and recording COVID-19 cases.
Specifically, when COVID-19 cases take place at work, employers must:
Determine the day and time the case was last present;
To the best extent possible, determine the date of the positive test or diagnosis, and the date when the case first had one or more symptoms (if any symptoms were experienced);
Determine who may have been exposed to the individual with COVID-19 (may require evaluating individual activities and the locations that may have been visited during the high-risk exposure period);
Provide notice to everyone who may have been exposed to COVID-19 within one business day (employers must not reveal any personal identifying information);
Offer COVID-19 testing to potentially exposed employees—at no cost and during working hours—and provide information about relevant benefits available under federal, state and local laws or through an employer policy;
Determine whether any workplace condition contributed to the risk of the exposure to COVID-19 and implement measures to reduce those exposure hazards.
Limiting workplace transmission: COVID-19 cases must be excluded from the workplace until the return-to-work requirements under this standard are met. If employees have been exposed to COVID-19, employers must not allow them to work for 14 days after the last known exposure.
Employee pay: The standard requires employers to continue the employee's pay, seniority, rights and benefits of any employee who is prohibited from coming to work because of COVID-19. According to Cal/OSHA's frequently asked questions, an employer must pay an employee while the employee is excluded from work. If the employee is able and available to work, the employer must continue to provide the employee's pay and benefits. An employer may require the employee to exhaust paid sick leave benefits before providing exclusion pay, and may offset payments by the amount an employee receives in other benefit payments. (Please refer to the Labor Commissioner's COVID-19 Guidance and Resources for information on paid sick leave requirements). These obligations do not apply if an employer establishes the employee's exposure was not work-related.
Employers must, at the time of exclusion, inform employees of the benefits (including paid sick leave) that may be available to them under federal, state or local laws, or under their employer's policy. Please note that these benefits may not apply to employees who cannot work because of causes other than COVID-19 or if the COVID-19 case is not work-related. Finally, the standard does not limit any other applicable law, employer policy or collective bargaining agreement that provides greater protections to employees.
Confidentiality: Employers must maintain the confidentiality of personal identifying information when responding to COVID-19 cases. The confidentiality requirement extends to any employer-provided testing and related medical services.
In addition, confidential medical records must not be disclosed or reported without the employee's expressed written consent to any person within or outside the workplace. However, the standard allows for some exceptions to the confidentiality rule to enable employers to provide required information to the local health department, CDPH, Cal/OSHA, the National Institute for Occupational Safety (NIOSH) and health or other governmental agencies as required by law.
Instruction and Training
Employers must provide information and training on the following:
Policies and procedures that protect employees from COVID-19 hazards;
COVID-19 related benefits that the employee is entitled to under federal, state and local laws;
Employment leave policies (including benefits, eligibility requirements and protections guaranteed by contract);
COVID-19 transmission, specifically how it is spread;
Methods for physical distancing (at least 6 feet apart) and the importance of combining these methods with face coverings and adequate hygiene;
The importance of frequent hand-washing of at least 20 seconds and using hand sanitizer when employees do not have access to hand-washing facilities (please note that hand sanitizer does not work if hands are soiled);
The proper use of face coverings and why they are not considered (nor can they replace) respiratory protective equipment (PPE); and
Symptoms of COVID-19 and when to stay home and obtain a test if symptoms are present.
Physical Distancing
All employees must maintain 6 feet of distance from other employees, except when an employer can show that 6 feet of distancing is not possible or employees are in movement with only momentary exposure. When distancing 6 feet is not an option, employees should work as far apart as possible.
Methods for physical distancing include:
Telework or remote work;
Reducing the number of individuals who simultaneously work in an area;
Using visual cues (signs and floor markers) to direct employee traffic;
Staggering work schedules; and
Adjusting work processes (for example, reducing production speed to allow greater distance between employees).
Face-covering Requirements
Employers must make sure that employees are properly wearing their face coverings when indoors, when within 6 feet of another person outdoors and when required by the California Department of Public Health (CDPH) or local health department. Face coverings must be clean and undamaged. Face shields are not a replacement for face coverings, but can be worn with face coverings for additional protection. However, employees are not required to wear face coverings:
If they are alone in a room;
While eating and drinking, if they are 6 feet apart (if indoors, there must also be a maximized quantity of outside air supplied to the area);
If they are wearing respiratory protection that satisfies the respiratory protection standard (section 5144 or other Title 8 safety orders);
If a medical or mental health condition prevents them from wearing a face covering;
If they are communicating with an individual who has a hearing impairment and requires facial visualization for communication;
If the specific task they need to perform cannot be practically performed with a face covering. This exception is limited to the time frame required to perform the task in question. Once the task is completed, employees are required to wear face coverings again. The CDPH has issued guidance that identifies examples of when wearing a face covering is likely not feasible.
Employees exempt from wearing a face-covering must wear an effective nonrestricted alternative (face shield with a drape on the bottom). In addition, any employee that is not wearing a form of a face covering or respiratory protection must be at least 6 feet from any other person, unless the unmasked employee is tested twice weekly for COVID-19. Employers are not allowed to use COVID-19 testing as an alternative to face coverings. Please note that, under the standard, employers cannot prevent employees from wearing face coverings, unless it creates a safety hazard.
Finally, employers must implement measures to communicate these face-covering requirements to nonemployees.
Employee Protections
The standard requires employers to use engineering controls, administrative controls and PPE to protect their employees.
Engineering controls: Engineering controls include installing washable solid partitions to reduce aerosol transmission at fixed work locations when it is not possible to maintain physical distancing requirements. For mechanical or natural ventilation buildings, employers must maximize the quantity of outside air provided, except when the EPA Air Quality Index is greater than 100 for any pollutant, or if opening windows or letting outdoor air in by other means would cause a hazard to employees (for example excessive heat or cold). Administrative controls: Administrative controls include work practices, such as cleaning procedures and hygiene policies.
The standard requires employers to:
Regularly clean and disinfect frequently touched surfaces and objects;
Inform employees and authorized employee representatives of the cleaning and disinfecting protocols, including the frequency and scope of cleaning procedures;
Prohibit employees from sharing PPE and other items that come into regular physical contact with employees, such as office equipment or tools (if sharing cannot be avoided, it should be minimized, and such items and equipment must be disinfected between uses);
Minimize the sharing of vehicles (high touch points must be disinfected between users);
Disinfect and clean areas, materials and equipment that was used by someone with a confirmed COVID-19 case or someone who has been ordered to isolate due to COVID-19 during a high risk exposure period; and
Complete cleaning and disinfection procedures in a way that does not create any hazards for employees.
Hand-washing: Employers must also evaluate hand-washing facilities and allow time for employee hand-washing. The evaluation should also determine whether there is a need for additional hand-washing facilities.
PPE: PPE should be evaluated to determine whether gloves, goggles and face shields are needed to prevent exposure to COVID-19 hazards. Employers must provide and monitor the use of respirators and eye protection in accordance with the respiratory protection standard (section 5144) when they are exposed to procedures that may aerosolize potentially infectious material. Examples of procedures that could aerosolize potentially infectious materials include certain dental procedures and outpatient medical specialties not covered by the aerosol transmissible disease standard (Section 5199).
COVID-19 Reporting
The standard requires employers to report COVID-19-related injuries and illnesses to Cal/OSHA and COVID-19 cases to the local health department.
Cal/OSHA reporting: Employers must report any serious, work-related illness that requires in-patient hospitalization or death to the nearest Cal/OSHA enforcement district office. Reports can be made on the Department of Industrial Relations website.
Local health department reporting: Employers must report any information or respond with any information concerning COVID-19 cases in the workplace to the local health department as required by law.
In addition, employers must notify their local health department whenever three or more COVID-19 cases surface in a worksite within a 14-day period to identify whether an outbreak is taking place. Employers must provide this notification within 48 hours and include:
The total number of COVID-19 cases;
Facility or hospitalization status;
The worksite's NAICS number; and
Effective Jan. 1, 2021, all the information required by Labor Code section 6409.6.
Please note that these reporting requirements are also required for major outbreaks.
Local health departments may require employers to provide periodic updates on existing and new cases. Please note that specific requirements apply for multiple workplace infections and outbreaks. See the "Multiple Infections and Outbreaks" section below for additional information.
COVID-19 Recordkeeping
The standard imposes requirements for employers in regard to their written COVID-19 prevention programs and COVID- 19 case recordkeeping.
Written protection program records: The standard requires employers to keep a record of their written protection program (and the program's implementation). The written protection program must be accessible at the workplace for all employees, employee representatives and Cal/OSHA representatives upon request.
Recording COVID-19 cases: Employers must keep track of all records and tracking of work-related COVID-19 cases. Case records must include:
The employee's name;
The employee's contact information;
The employee's occupation;
The location where the employee worked;
The last day the employee was at the workplace and the date of the employee's COVID-19 test.
Medical case information must be kept confidential and can only be made available to employees and authorized employee representatives after personal identifying information is removed. The standard maintains the right of employees, or their representatives, to review a redacted copy of their employer's log of work-related injuries and illnesses.
Return-to-Work Criteria
The table below presents the minimum criteria employers must use to determine whether employees can return to work.
Situation
Return-to-Work Criteria
Employee exhibits COVID-19 symptoms
 At least 24 hours have passed since a fever of 100.4 degrees or higher has been resolved without use of fever-reducing medications;
 COVID-19 symptoms have improved; and
 At least 10 days have passed since COVID-19 symptoms first appeared.
Employee has tested positive for COVID-19 but is NOT symptomatic
 A minimum of 10 days has passed since the date of the administration of their first positive COVID-19 test.
 A negative COVID-19 test is not required for employees to return to work.
Employee is under an isolation or quarantine (this may be prescribed by a health department order)
 The period of isolation or quarantine is completed or lifted.
 Employer must develop, implement and maintain effective control measures to prevent the transmission of COVID-19 in the workplace, including isolation options and respiratory protection options.
Multiple COVID-19 Infections and Outbreaks
The standard's multiple infection and outbreak requirements apply to "exposed workplaces." Under the standard, a workplace is "exposed" if the local health department:
Identifies it as the location of a COVID-19 outbreak; or
Three or more COVID-19 cases have surfaced at that site within the same 14-day period. These requirements will apply until there are no new COVID-19 cases detected in the workplace for a 14-day period.
Please note that reporting and notification requirements apply for multiple workplace infections and outbreaks. See the "COVID-19 Reporting" section above for more details.
Initial testing: The standard requires employers to provide COVID-19 testing to all employees who are (or were) present at the exposed workplace during the period of the outbreak or the 14-day period with three or more confirmed COVID-19 cases. COVID-19 testing must be provided at no cost to the employees during the employee's working hours. Employees must be tested at the time the workplace is classified as "exposed" and retested one week later. Employers should note that negative COVID-19 test results do not alter the terms or conditions of quarantine or isolation order issued by the local health department.
Continuous monitoring: After completing the initial testing phase, employers must provide continuous employee COVID-19 testing (for employees that remain at the workplace) at least once per week, or more frequently if recommended by the local health department until no new COVID-19 cases have been detected within a 14-day period. Employers must provide additional testing when required by Cal/OSHA.
Program assessment: When multiple infections or outbreaks are detected, employers should review, update and implement any necessary changes to their COVID-19 program. Employers should pay particular attention to the response, investigation, and communication and hazard assessment components of their program. Employers must conduct program assessments every 30 days while the outbreak continues, or when any new information (including previously unrecognized COVID-19 hazards) is discovered.
Major COVID-19 Outbreaks
The standard imposes specific obligations on employers when "major COVID-19 outbreaks" take place. A major COVID-19 outbreak takes place when 20 or more COVID-19 cases surface in an exposed workplace within a 30-day period. Requirements under this section apply until there are no new COVID-19 cases detected in a 14-day period.
Initial testing: Employers must provide employee COVID-19 testing twice weekly, or more frequently if recommended by the local health department, to all employees who are present and remain at the exposed workplace during the relevant 30-day period. The testing must be provided at no cost to the employee and must be completed during the employee's working hours. Employers must respond to positive employee COVID-19 tests as required by their program and any local, state or federal orders.
Major outbreak response: During a major outbreak, employers are also required to adopt or implement the following response measures:

Ventilation filters: In buildings with mechanical ventilation, employers must filter recirculated air with minimum efficiency reporting value (MERV)-13 or higher efficiency filters, if compatible with their ventilation system. If MERV-13 or higher filters are not compatible with the ventilation system, employers must use filters with the highest compatible filtering efficiency. Employers must also determine whether implementing or providing portable or mounted high-efficiency particulate air (HEPA) filtration units, or other air cleaning systems, would reduce the risk of transmission, and whether such measure is feasible.
Program assessment: Employers must evaluate the need to implement, adopt, update or upgrade their respiratory protection program (or change to another program under section 5144) to address COVID-19 hazards.
Operations assessment: Employers must determine whether to halt or postpone their operations (in whole or in part) until COVID-19 hazards have been corrected.
Employer-provided Housing COVID-19 Prevention
Employer-provided housing is housing arranged for or provided by an employer, typically for the benefit of the employer's workers. In some cases, employer-provided housing benefits not only the workers but also the workers' household. The standard's employer-provided housing requirements apply to most types of employer-provided housing, regardless of the terms and conditions (including rent and fee arrangements) for that housing. However, employer-provided housing is not subject to the standard's requirements if it is:
Provided for the purpose of emergency response (including firefighting, rescue and evacuation activities, or any activities that directly aid or support response efforts, such as utilities, communications and medical operations); and
The employer is a government entity, or housing is provided temporarily by a private employer and is necessary to conduct the emergency response operations.
The standard includes specific provisions for physical distancing and controls, face coverings, cleaning and disinfecting, screening and isolating of COVID-19 cases for employer-provided housing. The standard also carves out special provisions for occupants who maintained a household together prior to residing in employer-provided housing (family members) when no other person outside the household was present.
Employers are urged to review these guidelines in detail and review with legal counsel the extent to which labor and employment regulations extend to the privacy of an employee's household when the employee resides in employer-provided housing.
Employer-provided Transportation COVID-19 Prevention
Employer-provided transportation to and from work includes any transportation of an employee during the course and scope of employment that is provided, arranged for or secured by an employer. This includes ride-share vans or shuttle vehicles, carpools and private charter buses, regardless of the travel distance or duration involved. Written COVID-19 program requirements do not apply to drivers and passengers who belong to the same household (family members) or employer-provided transportation that is necessary for emergency response.
Grouping priorities: When possible and practical, employers should avoid or discourage employees from traveling together. However, when transporting employee groups in the same vehicle is necessary, the standard requires employers to prioritize shared transportation assignments in the following order:
Group employees in the same housing unit;
Group employees working on the same crew or worksite; and
Employees that do not share the same work crew or housing unit must only be transported in the same vehicle when there are no other transportation alternatives available.
Employee protections: The following list presents an overview of employee protections for employer-provided transportation:
Employees waiting for transportation must follow the employer's written protection program, face-covering and physical distancing requirements.
Vehicle operators and passengers must be separated by at least 3 feet in all directions when in operation, regardless of the vehicle's normal capacity. Vehicle capacity may have to be reduced, or more vehicles may have to be used to transport employees to comply with this requirement.
All occupants of the vehicle must wear a face covering that is provided by the employer.
All high-content surfaces (e.g., door handles, seat belt buckles, armrests, steering wheels and shifters) used by passengers and drivers must be cleaned and disinfected before each trip.
Employers must provide sanitizing materials and make sure they are kept in adequate supply.
Hand sanitizer must be provided by employers in each vehicle, and all occupants must sanitize their hands before entering and exiting the vehicle.
Vehicle windows must be kept open, and the ventilation system must be set to maximize the outdoor airflow. The vehicle must not recirculate air. Windows do not need to be kept open if the vehicle has functioning air conditioning in use and the outside air temperature is 90 degrees Fahrenheit, the vehicle has functioning heat and the outside temperature is less than 60 degrees Fahrenheit, it is snowing or raining, or the vehicle has a cabin air filter in use and the EPA Air Quality Index for any pollutant is greater than 100.
Passenger screening: Employers must develop, implement and maintain effective procedures for screening drivers and riders for COVID-19 symptoms prior to boarding shared transportation. Employers should also adopt and enforce policies for transporting employees who present COVID-19 symptoms at the beginning, end of or during their shift.
This Compliance Bulletin is not intended to be exhaustive nor should any discussion or opinions be construed as legal advice. Readers should contact legal counsel for legal advice. ©2020 Zywave, Inc. All rights reserved.
Latest Posts: